Day 6 Summary: Hike over Donohue Pass (elevation 11056 feet), enter Yosemite, and camp in Lyell Canyon.
After spending the previous day relaxing, it was time to get in some serious hiking.  We had passed the halfway point in our trek and we wanted to head back north into Yosemite.  Needless to say, we could only get there by climbing up and over the Sierra Crest.  Luckily, we entered the Ansel Adams Wilderness via Parker Pass at 12,200 feet but we'd be leaving by the much lower Donohue Pass.  This made Vicki quite happy, as she isn't fond of going uphill.  Don't get me wrong:  She loves the view once she gets there.  It's getting there that causes the problem.
Anyway, we had a pretty good idea of what we were in for, so we woke up fairly early and got our gear together.  After spending two nights in the same place, many of the smaller items had spread out into the tent, sneaking under the sleeping mats or ending up in the wrong gear bags thanks to our dayhike yesterday.  We also decided to eat a hearty breakfast so that we'd have plenty of fuel for the climb.  We packed it up, said goodbye to our awesome campsite, and headed over to the PCT.  We'd be hiking on it all day long.
At first the trail followed a valley with a small stream and tiny, yet lush, meadows.  The pine trees grew smaller and thinned out as we climbed higher.  The sky was clear, the air was cool and crisp, and the sun was strong.  Patches of snow grew more frequent, hidden on the northern sides of the granite walls all around us.  The valley spread out wider, the terrain tundra-like, as we approached the pass.
We met a backcountry Ranger and her dog.  She was hiking with a shovel, doing routine trail maintenance when and where it needed it.  She made sure that we had our food in bear-safe containers (we did), and she mentioned that she could only go as far as the pass, because dogs weren't allowed to hike in the national park.  While we spoke we watched her dog flush a large ptarmigan, whose feathers had blended so well with the rocks that we didn't even see it.  The bird flew in short, quick bursts of speed, then landed again, while the dog ran through the boulders chasing it.  We began laughing, because the dog had no chance of ever catching it, but it sure was fun to watch.  She said that the bird was technically an invasive species anyway, so it was OK if the dog caught it.  But we think the dog only wanted to play with the bird; it was really a very friendly dog.
Panorama video from our ascent of Donohue Pass
Vicki kept moving slower as we ascended, so I volunteered to take some weight off her pack.  We attached her fanny pack to mine and she immediately felt better.  I wasn't exactly thrilled, but I was still able to hike faster than she did, so it was a win for both of us in the end.  We'd also eaten quite a bit of food over the past five days, so even with the added weight my pack ended up about the same as when we started.  No problem, really.  After that it was simply a matter of putting one foot in front of the other until we reached the pass.
And the views were great from up there!  There were a couple of small snowmelt-fed ponds which were rather picturesque.  We took some photos of the trail signs, as this was the Yosemite-Ansel Adams boundary, as well as the actual Pacific Crest.  We got some fellow hikers to take a posed photo of us, with Lyell Canyon as a backdrop, which was a great idea.  In fact, I have a printed copy of that shot in a frame on my wall back home.
It was breezy up there, and it was still fairly early, so we decided not to stop for lunch quite yet.  I gave Vicki her extra weight back, and she didn't even complain, because the rest of the hike would be downhill.  Hooray!  We had climbed about 900 feet, but we were about to descend over 2000, so it would take us a while.  I was really looking forward to this section, as it was in Yosemite, and it was certain to be stunningly beautiful.  In fact, Lyell Canyon is one of the most difficult trails to get a permit for, as it is so popular.  Wilderness Permits, interestingly, are issued for the entry trailhead, not for the entire trip.  As long as you start at the right spot, the permits don't mention much of anything about where you hike afterward.   We simply started at Mono Pass, made a big multi-day U-shaped track, and hiked into Lyell Canyon from the south side.
Up this high, there was still snow on the north-facing sections of trail, and it was fun to hike on snow for a change.  Or should I say that it's fun to hike at noon on a warm summer day when the snow is soft.  At night it refreezes and gets icy and dangerous, but we'd be long gone by then.
Video of Vicki crossing a patch of pink snow (also called "Watermelon Snow")
Eventually we reached the stream crossing where the Lyell Fork of the Tuolumne River meets the PCT.  There's a bit of a lake there, and the stepping stones for the crossing were largely underwater.  It was possible to make it across with dry feet if you picked a route with care, and had a stick or exceptional balance.
We decided to stop and have lunch before crossing.  We put down our packs and took in the view of the Lyell Glacier just up the canyon.  It was stunningly beautiful.  We ate lunch and read our books.  Then Vicki decided to cool her tired feet in the stream.  Needless to say it was exceptionally cold!  This was water that had recently melted from that very glacier!  When I saw her reaction I decided that my feet would be happier simply airing-out in the breeze for a while.
We watched some other folks come down the trail and cross the stream, so we figured out a good path.  A few of them simply stomped right through the water, filling their boots.  They were laughing, but we still think they were nuts.  A large guided party came down on horseback.  We waved to them and asked if they wanted to carry our packs for us, but we got no takers.  We all laughed.  We'd have to carry our own loads, as usual.
We gained energy after eating, and crossed the stream without issue.  Then we continued down the trail, enjoying the views as it followed the stream down into the canyon.
Video of Vicki sticking her feet in the icy water below the Lyell Glacier
Video of the river where the PCT crosses the second time
Eventually we made it below treeline and into a pine forest.  The views were mostly gone but the scent of pines in the air made up for it.  The wind was gone, the air was warm, and the sun was powerful.  It felt great, but, paradoxically, it made us enjoy the shade of the trees even more.
There was a footbridge shown on the map, and when we got there we discovered that there were quite a lot of campsites all around.  We spoke to some of the other backpackers as we took a break for some snack.  They were mainly heading south on the John Muir Trail (the PCT and JMT are co-located in this section) and didn't feel like climbing any higher that day.  The northbound PCT hikers typically wouldn't stop here as Tuolumne Meadows, a major resupply point, was within striking distance.
As we continued down the trail to the canyon floor, we found a digital camera on the trail.  It was dusty and the lens wasn't working well, but we decided to carry it with us for now, as whoever lost it certainly wouldn't be able to use it even if they came back for it.  And it's a good thing we did.  After getting home, we checked the photos on it and it had obviously been dropped by one of the horseback riders who'd passed us earlier.  I even had pictures of the horses (and people) that I had taken.  So we searched online for the guide company whose logo was on the panniers of the pack animals.  We found it and called them.  They eventually enabled the owner of the camera get in touch with us, and we sent them the memory card from the camera in the mail.  They were overjoyed!  And we felt pretty good about it, too.
Another highlight of the hike was meeting up with a trail crew.  They had gas-powered rock drills and were rebuilding a damaged section of trail.  They showed us how they split the big granite boulders into step-sized chunks.  It was a lot of work, but it sure sounded like a great summer job for a college kid.
LOUD video of a rock drill on the JMT-PCT in Lyell Canyon
The trail continued down and down and down.  The trail stayed high on the canyon's side, hot in the sun but far from the river, and we were glad we'd filtered extra water back at the footbridge.   Finally, though, the trail made it all the way to the meadows on the valley floor.  The river no longer rushed and bubbled and crashed its way downhill.  Now it grew deeper and slow, and wound its way sinuously along and through the expansive meadows.  It was Yosemite, and it was beautiful, but in yet another, completely different way.
Now, normally I like hiking in the mountains so that I can climb those mountains, to get awesome views.  Being in a valley seems constrictive and confining.  But not this valley.  Lyell Canyon had broad meadows.  It was open and airy, and there were mountains all around, especially up-canyon, where we could still see the Lyell Glacier shining in the sun.  It was gorgeous down there!
Nonetheless, Vicki was feeling the long downhill hike in her knees.  We'd hiked nearly eight miles, and that was a lot for us, so the next order of business became finding a campsite for the night.  Camping in the meadow was not allowed, of course, and, as this was a busy trail, we wanted to find an established campsite in order to practice the "Leave No Trace" philosophy.  So we hiked along for about a half mile before finding a side-trail to the west.  It led into the forest where there was a fine spot complete with fire ring!  We were well below 10,000 feet for the first time, so we decided that it would be fun to have a campfire.  High Sierra hikers don't get to have them very often, so it was quite a treat.
We set up camp and got everything ready.  Then we went off into the forest hoping to find some downed limbs for the fire.  We had to hike pretty far, as almost everything had been burned by previous campers.  But we didn't need much.  We lit it while it was still light out, but we didn't care.  We ate our dinner sitting on some large boulders, facing the warmth of the fire.  It was already getting chilly, and the clear skies promised a cold night to come.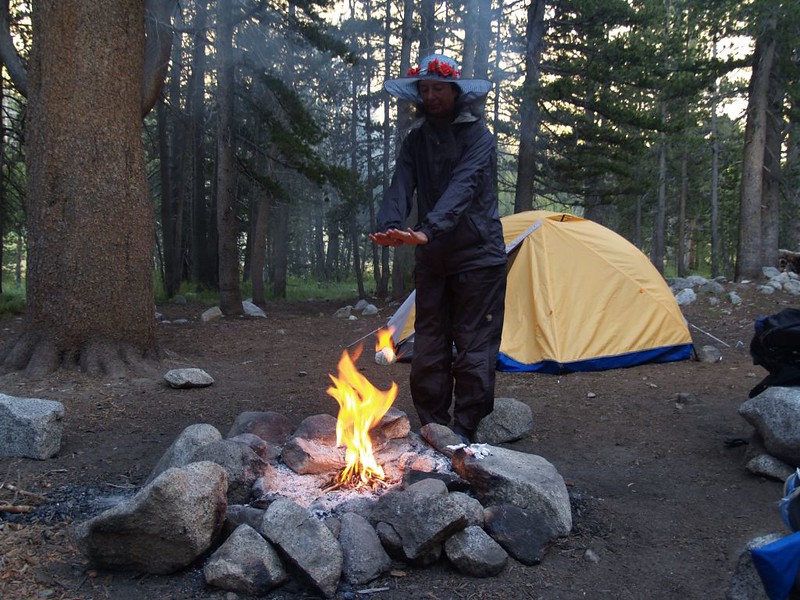 Video of a herd of Belled Horses running up the canyon toward the big campsite at the head of the meadow.
Video of Sitting by the fire in our campsite.  What a great way to end a fun hiking day!
For Day 6 photos and videos see my Flickr Page.
For an interactive topographic map including our GPS tracks see my CalTopo Page.