We woke to the alarm at 5am and got our gear ready in the light of our headlamps.  By the time we crawled outside, it was just beginning to get light.  Then we took down the tent and were fully packed by dawn.  We ate our no-cook breakfast as we hiked out of camp.  Luckily for us, the PCT remained on the west side of the Sierra Crest as it climbed, so we stayed in cool shade for the first mile of uphill hiking.  Vicki was enjoying it immensely.
We only had a few hundred feet to climb to reach the crest, and were rewarded by fine views out to the east over the Owens Valley.  Down below us was the Ash Creek drainage, where all of the water from Ash Meadow collected and headed downhill to the rapacious intakes of the aqueduct belonging to the Los Angeles Department of Water and Power.  I was glad that we were carrying a bit of it away with us so that L.A. couldn't get their greedy hands on it.  Technically, the water rightfully belonged in what used to be Owens Lake.  But that's a part of the California Water Wars and not this humble tale.  Besides, we only drank two gallons.
Just the same, it was a fun place to hike, way up there along the ridgeline, and the views were great.  We could see tiny cars and trucks down below on Highway 395.  And we tried to get signal on our cell phones, but with no success.  According to the Guthook PCT app, only AT&T phones could get signal up there, not Verizon.  Oh well.  We still had our Garmin InReach for communication via satellite if we really needed it.  I was mostly sad that I couldn't send out a photo and make my family and coworkers jealous.
We had about four miles of gentle downhill hiking ahead of us, and Vicki was thrilled.  This is the time when she really stretches those long legs of hers!  And the best part was that it was along a ridge, so we had nice views and breezes the entire way down.  We stopped at places with particularly spectacular vistas and removed our shoes to air out our hot sweaty feet.  We've found, over many years of hiking, that removing ones boots for five minutes every hour or so is a great way to maintain healthy, happy feet.  Choosing a spot with some sun and breeze, and taking off the socks to dry, is the fastest way to attain relief from the dreaded "hotfoot," short of plunging them into an icy stream.  And at the bottom of the ridge, where the PCT crossed Dry Creek (which wasn't dry at all), we stopped and did exactly that.
After that, we had three long miles of flat boring hiking, which was mostly in the sun.  We stopped for lunch in the shade of a big pine, where Vicki took her usual nap, and then we continued on.  And on.  Eventually we crossed Gomez Meadow, which was situated directly on the Sierra Crest, so that water flowed both east and west out of the deep green grassy expanse.  The builders of the PCT had constructed a raised path across the meadow, to avoid damaging the fragile area.  It was quite lush, and a few mosquitoes came out to say hello while we lingered there.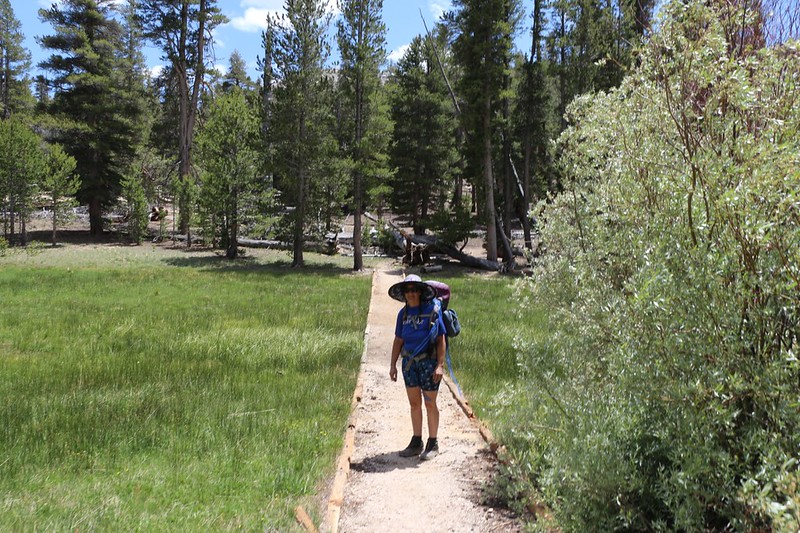 By that point, Vicki was getting quite tired.  I told her that we only had a mile to go, but she wasn't really happy, and wished that we had stopped back at Dry Creek.  Which we could have done.  But it would have meant climbing Olancha Peak later in the day tomorrow, because Three Miles is still Three Miles, and it doesn't get hiked in a minute, regardless of how flat and boring it is.  So we stopped for one last boot-off break in the shade, and continued onward.  You have to realize that Vicki has plenty of Willpower.  Probably more than she has of Leg Power, but the legs do what the Will Commands, and she kept getting slower as the day went on.  We needed to camp near the final water source before the ascent of the peak, and that's exactly what we did.
Vicki was pretty much shot by the time we crested a low ridge near where the Guthook App swore was a good campsite.  So we put down the packs and Vicki sat on a log while I headed off looking for a likely spot for a tent.  And I found several.  I went back, got Vicki moving, put on my backpack, and, while carrying Vicki's pack on one arm, led her to the spot.  She was pretty zoned out.  She sat down for a bit as I got out the tent, then she helped me with the setup.  I inflated the air mattresses, and soon Vicki was napping peacefully in the comfort of the tent.
Naps work wonders for Vicki's energy state.  Soon enough, we we getting ready for another night on the trail.  We purified two gallons of water, made dinner, and enjoyed the late afternoon sunshine while eating it in camp.  We didn't have much of a view from here, but that was OK.  We had hiked those extra miles, and the big payoff would be the next day, when we would wake up super-early and climb Olancha Peak while the air was cool.  It was going to be our toughest day of all, with 1600 feet of climbing and another eight miles of hiking.  So we headed to bed before sunset and set our alarm for O'Dark-Thirty.
For a topographic map of the hike see my CalTopo Page
For LOTS more photos of the trek see my Flickr Page