Vicki and I went on a four day backpacking trek in the Sierra Nevada, hiking north on the Pacific Crest Trail from Devils Postpile to Thousand Island Lake, followed by hiking south on the John Muir Trail back to Devils Postpile.  This loop is one of the places where the PCT diverges from the JMT, and we wanted to experience both trails.
This hike is intimately involved with the Devils Postpile National Monument, as many of the trailheads originate from there.  Many years ago, overcrowding caused the creation of a shuttle bus service that prevented most vehicular traffic from entering the area.  Visitors were forced to park down in the town of Mammoth Lakes, unless you had a campsite or were staying at Reds Meadow Resort.  Sadly, backpackers were not included in these exceptions.  The only way around this rule was to arrive either after 7pm or before 7am, when the entry booth wasn't manned.  So that's what we did.  I'm not going to say whether we slept in the car overnight at the trailhead, because, technically, that isn't allowed.  But we were ready to hike before 7am, and that's what really mattered.
We started the four-day trek in Agnew Meadows, hiking north on the PCT, which stays way up high, traversing below a long ridge formed by San Joaquin Mountain, Two Teats, and Deadman Pass.  This is called the "High Trail" when getting your Wilderness Permit from Inyo National Forest on recreation.gov.  The "high" part is why we started so early, to get the initial climbing over with before the sun could rise above the ridge.  And it worked!
Unfortunately for us, the air had a thin haze of smoke from wildfires far to the north.  2021 was a dry and burning year in Northern California, and the smoke plumes would drift here and there with the weather.  This was a bad day, although we expected it to improve by tomorrow.  But for now, the views across the valley of the Middle Fork San Joaquin River were less than spectacular.  At least the air wasn't bothering Vicki's lungs too much.  As for elevation, we had spent the last three nights up near 10,000 feet, at Horseshoe Meadows, so she was well on the road to becoming acclimated.
The haze didn't stop the sun's rays from blazing down at us.  It was hot up on that exposed slope, and there wasn't a lot of shade to be found.  I was surprised at the number of flowing streams, however.  Vicki used them for cooling purposes, by soaking her hair and shirt in the icy waters.  The trail climbed steadily until we were below San Joaquin Mountain, and then it leveled off.  The air grew a bit clearer, and we could easily make out Shadow Lake and Shadow Creek across the valley.  The lake looked like it was sitting in its own perfect bowl.  Very pretty.  I mentioned to Vicki that we would be hiking over there tomorrow, because the John Muir Trail stayed on the west side of the valley.  Generally speaking, the PCT stayed high and had plenty of great views, while the JMT visited a number of lakes and had fewer views.
The hiking was much easier after the big ascent, and we cruised along, taking in the views as the air continued clearing.  It was hot, but Vicki stayed cool thanks to the small creeks that crossed the trail.  She also took a couple of naps.  We only had seven miles of hiking to do, so there was plenty of time to take a break.  I read a book while Vicki slept, or just stared out at the mountains across the way.  It was a good day to be in the High Sierra.
We passed by trail junctions heading north, up and over Agnew Pass to Gem Lake, but that wasn't part of our plan.  Our goal was to camp at Thousand Island Lake, a popular spot for JMT and PCT hikers.  Unfortunately, Vicki's energy seemed to be fading a bit.  I checked the map, and noticed that the Badger Lakes were a short distance away, just to the south of the PCT.  We talked it over, and decided to forgo the views and crowds at Thousand Island Lake for the beauty and solitude of the Badger Lakes.  We'd make up the extra distance tomorrow, when there was a lot less climbing involved than today.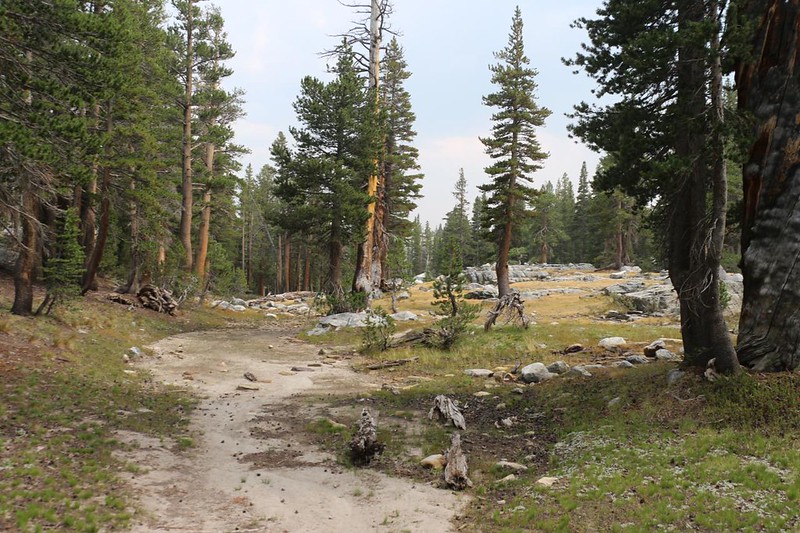 We arrived at one of the larger Badger Lakes and found a good spot for the tent.  Others had made a nice campsite with a flat stone table, and Vicki was quite happy.  There wasn't any water flowing in the creek leading to the lake, so I filtered some lake water and called it good.  There weren't too many bugs in it!  Ha ha!  During a dry year, you have to lower your expectations a bit.  And it tasted just fine.  It was Sierra Water, after all.
We hung out in the tent and Vicki took yet another nap.  Life was good.  Then we ate some dinner and wandered along the shore of the lake to walk it off.  Our daily constitutional.  A group of three hikers showed up and found a spot further east along the shore, so we weren't all alone.  But that was OK.  They were quiet and considerate neighbors, just like us.  It was a mellow scene at the Badger Lakes that day.
We ended up heading to bed before sunset, as usual.  We were getting to be fairly predictable in our backpacking routine.  We planned to wake up early the next morning, so we could make up the extra distance.  This was also "as usual" for us.  We liked to hike uphill in the cool of the morning, then take plenty of breaks and naps later on.  We checked out the map, and noticed that there were a whole lot of lakes on our schedule for tomorrow.  Today had been good, and tomorrow would be better.  And then we fell asleep.
For a topographic map of the hike see my CalTopo Page
For LOTS more photos of the trek see my Flickr Page