This was the third of our "training" backpacking trips this year. Unlike last year, when our primary training goal was to get acclimated to high elevation for an eventual summit of a fourteen thousand foot peak, this year our goal was to pay mere lip service to elevation-acclimation and endurance-training and simply go on a bunch of fun backpacking trips. Call it training if you like. I call it having fun!
We started from Humber Park (in the picturesque mountain town of Idyllwild) just before dawn, while it was still quite cool. The Devil's Slide Trail should always be done at an early hour, as it is a relentless climb. We theorized that the Devil must stay in bed late, because we found it to be relatively easy to climb 1600 feet in two and a half miles in the cool air and shade. (Note, however, that the Devil is always awake on a summer afternoon, when the west-facing trail becomes a blazing inferno.)
Video of a small streamlet crossing the Devil's Slide Trail
We reached Saddle Junction and relaxed for a while. We ate some trail snack, sitting on a huge fallen log, with the early morning sun slanting through the trees and the smell of pines in the air. It was a great day for a hike. We were headed for Laws Camp, via the Willow Creek Trail. We traveled through a beautiful open pine forest, with plenty of huge tall pines and a grassy, fern-covered floor. The terrain was relatively flat, and it was a joy to hike there. Eventually we made it to Willow Creek itself, where I cooled my feet in the cold, cold water. I couldn't leave them submerged in that icy water for long! After the creek crossing the trail went uphill for a short stretch, which was disheartening, as we were expecting a downhill hike to camp. We decided to take another rest after that. It was just another part of our, ummm, "training" regimen.
Video of Willow Creek where it crosses the Willow Creek Trail
We hiked the Cedar Trail down to Laws Camp, which was placed conveniently near Willow Creek, so there was plenty of water. We wandered around the camp looking for a good campsite. It was a huge flattish area, and there were many possibilities, but we were picky. We finally found a nice spot with a view near an old ring of piled rocks, which looked like some big kid's fort. We found out later that this "fort" was the actual camp that Laws built long ago! Apparently, Mr. Laws was as picky as we were.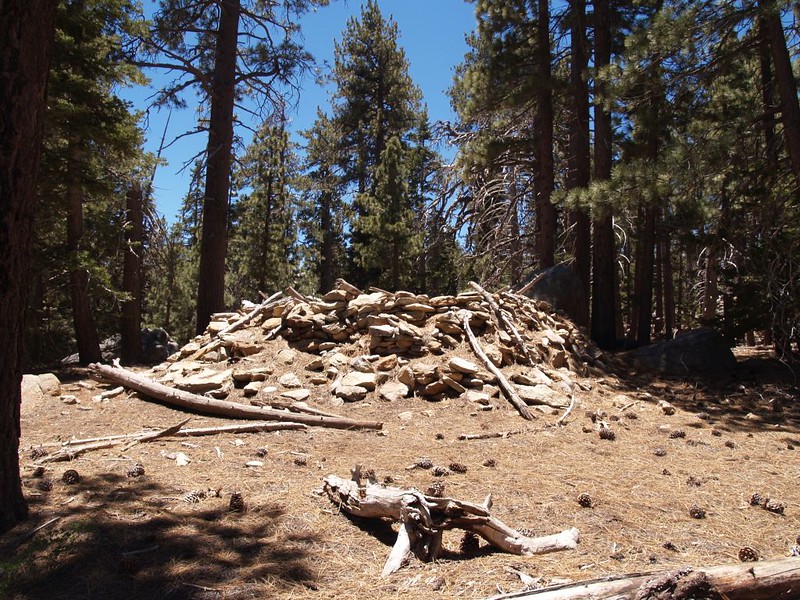 Video of the actual site of Laws Camp and the rocky ringed structure
Video of the creek at Laws Camp
The next day, the sun hit the tent directly from the horizon, far out over the desert to the east. Burning Daylight! It was time to get moving! We ate breakfast, packed our daypacks, and took off down the Caramba Trail. This trail was very pretty, but was annoying in that it went up and down too often, as it traversed along the valley's side rather than down near the bottom. Still, eventually we ended up at the stream by Caramba Camp and the Caramba Overlook. We were the only people there. We lazed around, soaked our feet in the icy water, and "raced" some twigs and pieces of bark down the stream.
Video of Tahquitz Creek flowing through Caramba Camp
We climbed up and relaxed on top of a giant set of boulders, looking out over the desert to the east.  This spot is called the Caramba Overlook. It was a great viewpoint, but the weather was very hazy. I had some lunch and Vicki took a nap in the partial shade of a bush.
Panorama video of the view from Caramba Overlook
Once back at the creek, we headed downstream to see the waterfalls and pools, in the section below the campsites where it begins its steep drop down into the desert several miles below. There was a sign that said "Warning: Impassable Falls Ahead" but all you had to do to pass them was climb up and over the steep shoulder on the north side of the chasm. And below the falls is the best view, because of the nice deep pool of water. It was very pretty, and we relaxed there for a while (and took lots of pictures and videos).
Video of the waterfall
The climb back to Laws Camp was nice. There were lupines blooming everywhere, amidst the tall pines. We even saw a white mutant albino lupine, which had interesting coloration. We hiked cross-country through the Laws Camp area, heading directly toward our tent. It was late Sunday afternoon, and the camp was deserted. A small herd of deer looked at us suspiciously as we arrived in camp. What were these humans doing here? Didn't they know that it was time to leave?
But we didn't break down camp until the next morning. And we left bright and early, getting up before dawn. We had a lot of hiking to do, and a mountain to climb! We continued on up the Caramba Trail toward Tahquitz Peak. The trail went uphill gently along a small waterway, through more beautiful tall pines, with the occasional small grassy meadow. Very pretty. We passed Reeds Meadow and dropped our big backpacks at the intersection of the Little Tahquitz Valley Trail. With only our daypacks, it was much easier hiking. We passed though the huge Tahquitz Meadow, and crossed a small stream. There was another meadow in Little Tahquitz Valley, a high sloping meadow, much drier than the others.
Soon we reached the Pacific Crest Trail (PCT) and hiked along it for a mile or so, uphill all the way, until the turn-off for Tahquitz Peak on the South Ridge Trail. Then we really began to climb. And the trail was gorgeous. It was cut along the mountainside, so that we had continuously more spectacular views to the north, as well as views down into the valley where we started, in Humber Park.
Our goal was the old Fire Lookout Tower on the summit of Tahquitz Peak, which was in pristine condition, much like visiting a museum. There were no volunteers present on a lonely Monday, and the door was locked, but it was easy enough to look in through the many windows. We wondered what it would be like to spend a summer all alone on a peak like that, with only the occasional voice on a two-way radio for company. But also the endless universe of stars and storms and sun and moon. And they had enough books on the small bookshelf to last quite a while. Plenty of fresh mountain air, too. And the occasional visitor hiking up the long dry trail from Idyllwild.
Panorama video of the view from Tahquitz Peak
Vicki took a nap on a large granite boulder and I read my book. It was nice up there. But soon enough it was time to head home. We re-traced our path to our backpacks, shouldered the heavy loads, then headed off for Saddle Junction.  There were several people at the junction, which wasn't all that surprising, including one solo hiker who was re-starting her attempt to hike the entire PCT after recovering from an injury. We wished her lots of luck, but were secretly jealous. If only we had the time and money to commit to a hike like that!
We sighed and began the hot afternoon descent of the Devil's Slide Trail. The sun beat down on us, and we sweated even though we were heading downhill. The Devil had awakened! Even our feet were hot, from plodding on the dusty sun-blasted trail. We stopped at Middle Spring to dunk our heads under the tiny waterfall. It felt great, but I got a bit of brainfreeze after the third dunk; that water was cold!
Head dunking video at Middle Spring on the Devils Slide Trail – a nice way to cool off!
We got back to the car by 2:30pm, and were back on the road all too soon, descending down into the roasting heat of Hemet. But not before stopping off in Idyllwild for ice cream cones! Oh, yes. That was exactly what we needed to top off this latest "training" hike. One always deserves a reward for hard work, after all.
The rest of the photos from this trip can be found on my Flickr Page
An interactive topographic map of the hike can be seen on my CalTopo Page