Continuing this year's PCT hiking theme, Vicki and I decided to hike another section, but a section far removed from the others. This one was up north of Los Angeles, in the Angeles National Forest and Sheep Mountain Wilderness.
Water, particularly in this extra-dry year of 2013, was one of the main factors in determining where to hike. And the Little Jimmy Campground, with the always-flowing Little Jimmy Spring, fit the bill perfectly. It was a short, easy hike into camp from Angeles Crest Highway (Hwy 2), a mere two miles and 700 feet of climbing, and was positioned right on the PCT.
We left San Diego in the dark, at three AM, and arrived at the Little Jimmy Road parking area at first light. It was cool but pleasant, and we used that cool air to do the main climbing with our full packs. Then the dirt access road crossed the PCT, so we took the PCT southbound toward Little Jimmy. But we didn't plan to camp there, as we knew it would be too crowded for our liking.
We continued on to Windy Gap and the Mount Islip Trail. We followed the trail uphill a short distance and discovered a uniquely beautiful spot on the ridgeline, with a nice, flat, shady spot under a cluster of pines. Perfect! It had a great view in all directions, was concealed from the trail, and had a nice breeze. It had obviously been used before, so "Leave No Trace" guidelines were being properly followed, which made us feel better about not camping in the crowded, noisy Little Jimmy Campground.
We set up the tent and promptly took a nap. So much for our big day-hiking plans! We had planned to hike all the way to Mount Baden-Powell and back on the PCT.  Twelve miles round trip.  But that was more of a "leave camp by eight AM" plan, not a ten AM plan. So, we set ourselves a turn-around time of two PM, so that we'd be back in camp for dinner at six o'clock. If we didn't make it all the way to B-P, well, so be it. That nap was worth it!
Off we hiked.  First stop:  Little Jimmy Spring.  It was time to fill up on water for our day hike.  We'd get more water later, on the way back to camp.  Little Jimmy Spring is great; it always flows, even during the driest years.  Vicki insisted on filtering the water from the spring, although I knew that it was unnecessary.
Video of Little Jimmy Spring pouring from the pipe into the half-barrel below it.
The entire first section of the climb had nice views south toward L.A. over Crystal Lake, alternating with views north into the high desert to the dry lakebeds of Edwards Air Force Base. It looked hot down there, but up here it was about seventy degrees with a mild breeze. It was nice in the shade, but hot hiking uphill in the sun. And this first section had way too much sun. Why? Because most of the trees had either burnt or died off. Lots of dead sticks everywhere. Not very pretty. So it wasn't the loveliest day-hike we'd had this year.
But eventually we reached some higher, non-burnt trees. Trees with shade, that you could stand under as the cool breeze dried off your sweat. Ahhh…
The trail got easier as we headed over to Throop Peak. We decided to go all the way around to the east side where the use trail leaves the PCT for the peak. This was our decision-point, and it was already two PM, our turn-around time. Not much of a decision, really. We could have made the summit of Baden-Powell, energy-wise, but we would have made it back to camp in the dark. The moon was full, and we had our headlamps, but still… And so we voted with our feet: We turned around and climbed the use-trail to the summit of Throop Peak. We'd head back to camp from there. Baden-Powell could wait for another trip, some other day.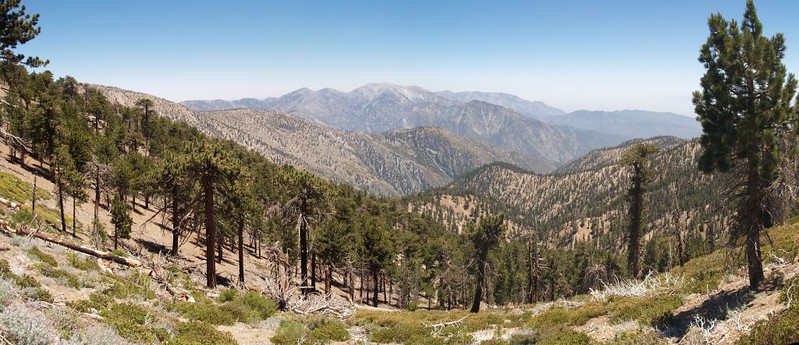 The summit of Throop Peak was breezy and had great views. There was a brass marker in honor of Amos G. Throop, the founder of CalTech. We descended a short way beyond the summit and had lunch in the shade of a large pine. It was nice to take our boots off and dry out those sweaty socks. It was also agreeable to think about our remaining dayhike, and how (almost) all of it was downhill. Yes, it's the little things in life…
Throop Peak Summit panorama video
To descend, we took the other use trail down the southwest ridge, where it joined the PCT. Not much further along was the use trail to Mount Hawkins. Vicki didn't care to climb this peak, even though it wasn't much of a climb. We decided to meet where the west ridge met back up with the PCT. I toiled on up the use trail, and officially "bagged" the peak, but there was no register to sign, and there wasn't much of a view due to the pine trees up there. Very boring, in other words. Although the view of the trail leading out to South Mount Hawkins looked interesting. Too bad we weren't hiking there! So I took the requisite photos and descended the ridge to meet Vicki, who was once again airing out her socks. We seem to do that a lot. Probably because it feels so good.
The rest of the hike was anti-climactic, as we had to drop down through the burnt ugly zone to Windy Gap. Once there, we made the command decision to let Vicki watch the packs while I filled up two extra liters of water at Little Jimmy Spring. We'd make do with that plus the water we had left in our packs. We'd get more in the morning if we were thirsty. Then we climbed part way up the west ridge of Mount Islip to our lovely campsite. Good thing we remembered about this uphill section beforehand, as it was tough dragging out those extra reserves of energy we'd told ourselves we needed earlier. We were beat by the time we made camp.
When we reached the tent we crawled inside and took yet another nap. This was getting habit-forming! And the toughest habits to break are the ones that feel so good. There was plenty of light left (as it was the longest day of the year) so we slept for a bit. Then we had some dinner, but neither of us felt like eating the freeze-dried beef stew we'd brought. We weren't sure if it was the elevation that did it, but our tummies weren't happy. Vicki cooked up some salty ramen noodles instead, and they went down great.
Later on, after reading my book far into the evening (one of the downsides of taking too many naps), I got dressed and went outside to check out the night lights. From our vantage point we could see lights down below at the Crystal Lake Campground, and far beyond that to the endless cloud of lights that is Los Angeles, as they stretched away into the distance. To the north, the sparse lights of the desert towns twinkled and winked. It was beautiful. Then I looked further down the ridge, and discovered that there were still people out hiking! Some maniacs were signalling UFO's by blinking their lights off and on down at the Windy Gap junction. Or so it seemed. Didn't these people have tents? What were they REALLY doing? We'll never know, as I certainly wasn't going to ask them. I crawled back in the tent and read my book some more.
The next morning we woke up at the crack of dawn and ate a hearty breakfast. Our tummies were happy once again. Then we grabbed some snacks and hit the trail for Mount Islip. We figured that we could bag the peak before any of the folks down below at the Little Jimmy Campground were even awake. And we did! The trail up to the peak had a few switchbacks, but was nicely graded. Up at the top we inspected the old stone cabin and the cement footings for the old fire tower that used to be there. Beautiful views in every direction from the summit of Mount Islip.
Panorama video from the summit of Mount Islip – elevation 8850 feet
But all too soon it was time to leave.  We hiked back to the tent and finished putting everything away in our big backpacks.  We took the "other" trail down and arrived at Little Jimmy from the far side.  Lots of nice places to camp back in that area. Which is a good thing, because a LOT of people like camping there.  It's very popular with Boy Scouts, as even young scouts can make it there without too much trouble.  All in all, it really was a pleasant place to set up camp.  I took some photos, and we hiked onward.
This time we decided to stay on Little Jimmy Road the entire way, rather than hike directly on the PCT. Mostly because it was different, but also to be easy on the knees. It paralleled the PCT the entire way, so it didn't matter much, mileage-wise. We reached the car well before noon, and relaxed for a few minutes as we changed our shoes and socks. Ahhh. Happy feet. And another Pacific Crest Trail section had been successfully hiked. All that was left was the long ride home in the sun.
Interactive topographic map of our hike on my Caltopo Page
The rest of my photos from this trip can be seen on my Flickr Album Page