Let's face it: We were bored. And lazy. So we thought about the laziest way to camp in the local San Diego mountains while still getting in a bit of hiking, and we could come to only one conclusion: Car Camping. We thought that the campgrounds in Cuyamaca Park might be full, so we opted for the Laguna Mountain campground. There was some easy hiking around the nearby lakes and meadows, which was just what we wanted. Lazy and easy. So away we went.
After setting up camp we went for our hike. We planned as little as possible, and simply strolled south out of the campground through the late-season-dry meadow that is called on the map "LIttle Laguna Lake".
We eventually made our way around to the west where we knew we'd find Big Laguna Lake, a real lake with water. And cows! There was a herd of them along the shore, and they were lounging in the grass, enjoying the sunny afternoon. They were even lazier than we were!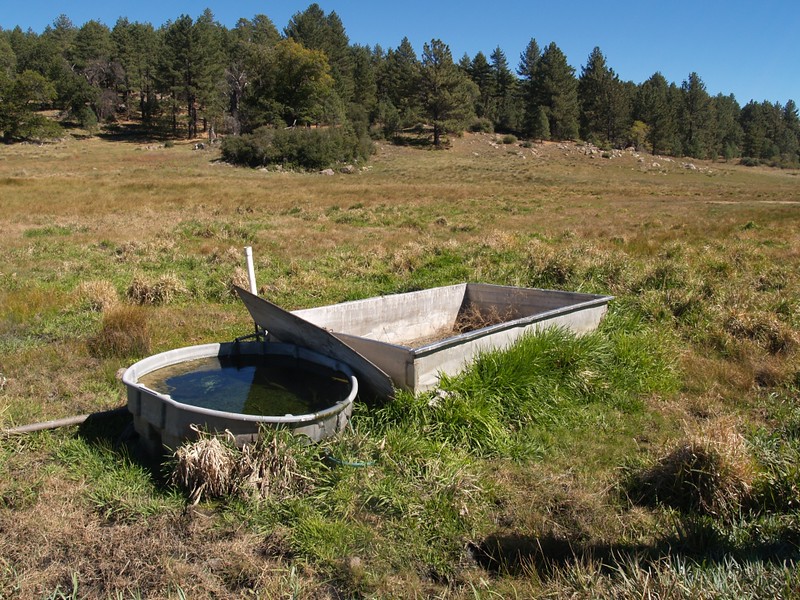 We took a bit of a rest on the way back and watched the cows drinking in the lake. Then we made our way back to the campground. We'd hiked at least a mile over flat ground and were exhausted!
We got in the car and drove to the local town, where Vicki bought some wine. Then we headed back to the campground, and we bought some firewood from the campground host for five bucks. As long as were were car camping we might as well have ourselves a camp fire. We're used to camping in the wilderness, where quite often campfires aren't allowed at all, so we were looking forward to a fun night.
During the night, after our peaceful, early-evening campfire was long since out, we remembered why we never go car camping any more: It was the other nearby campers! Granted, ninety nine percent of them were quiet folks just like us, who respected the rules of the campground. Namely, the one about being quiet after 10 PM. Meanwhile, not far from us, there was a large group of drunken idiots who stayed up well past midnight! And, being drunk, they were also extremely loud. Oh, I'm sure they thought they were quiet. And very humorous, as well. In fact, there was one comedian, a woman, whose laugh brayed out "Haw! Haw! Haw!" every minute or so. For hours. Once that laugh entered your head, there was no sleeping, for as soon as you were getting drowsy, the "Haw! Haw! Haw!" would snap you right awake again. Soon enough, I was sending daggers of mental energy her way. More than once, I sat up and began putting on my shoes to go out and confront her. But each time I came to my senses and desisted. Was there really any point? Could I remove the alcohol from her blood? Could I change her irritating style of laughter? And then I looked next to me: There was Vicki, snoring away, deeply asleep after drinking a glass or two of wine. Even though I hadn't had any myself, we, too, had been drinking in the campground around the fire. If we'd had some friends along, maybe WE would have been the obnoxious ones that everyone hated. So I decided to just bear it in silence. I got out my book and my headlamp, and continued reading well past midnight. The lady of mirth became tired as well, and her outbursts became less frequent. Still, she wouldn't go to sleep. Just the same, I put down my book and eventually nodded off.
As always, I woke up at the crack of dawn. It was cold outside. I went out and looked around. There was frost on the grass! Brrr! I looked around the campground, trying to discover the location of those noisy campers. I had a pretty good idea, but I wasn't certain precisely which tent or trailer was hers. I really wanted to bang some pots and pans around, and make the kinds of sounds that people with hangovers truly love and desire, but are too sickly to show their appreciation for. Or maybe I could have blasted out a few choice "Haw! Haw! Haw!" imitations. It would have been pointless, and cruel, but quite cathartic.
Soon after breakfast we drove home, less than an hour away. Vicki said that she'd slept well, so I decided to call the trip a win. It had been a lazy weekend after all, and had gotten us out of our boring, non-camping rut. Now it was time to plan some further adventures.  But not car camping!
Interactive topographic map on my Caltopo Page
More photos can be found on my Flickr Page