My son and I climbed Mount San Antonio (Mt. Baldy, elevation 10064 feet) via the Devils Backbone Trail as a day hike.
We intended to do this hike via the easiest possible route, ascending 1300 feet on a motorized Ski Lift with no effort whatsoever, followed by a relaxing 2300 foot climb to the summit.  While this isn't exactly easy, other routes up Baldy are far more strenuous.  And the best part about this hike was that we would walk along a precipitous ridge on the famous Devils Backbone Trail.  I'd never been there, and was looking forward to it.
Much like thousands of others in the past, we arrived at the Manker Flat campground about sunrise, and hiked up Mt Baldy Road to the ski lift, which opened at seven.  Or it would have, if anyone had bothered to arrive on time and take our money.  While waiting in the parking lot, two other companions arrived.  We hadn't met them before, at least not in person, so it took a bit of time to recognize them.  They were fellow members of the San Gabriel Mountains Discussion Forum (aka EisPiraten.com) and we were meeting here on the first of what was to become a new tradition of regular group hikes.  We introduced ourselves and shook hands.  One was Sean, the boss of the forum, and the other was Elwood.  Both of them were strong hikers, much stronger than me.  I'd read about their adventures on the internet, which is why I felt like I already knew them.  If you're observant, you can tell a lot about a person's character based on their writing, so I wasn't too worried about being kidnapped by "strangers" from the evil internet.  Because they weren't strangers at all.  Anyway, these two were known for cranking out thirty-plus mile days with over ten thousand feet of elevation gain, so I was glad we were taking an easy day today.  I'm fairly tough, but just one of those adventures would easily kick my butt.
Video as we ascend to Baldy Notch on the Mt. Baldy Ski Lift
We took a few official group photos up at the top of the lift, at Baldy Notch, then started hiking upward on one of the dirt roads that serve the ski area.  It was easy hiking.  We spoke about good hikes in the area, and a bit about the forum itself, but mostly we just hiked along and enjoyed the views, which kept getting better the higher we climbed.
We reached the top of the non-operating ski lift and continued onward onto what was obviously the Devils Backbone.  The trail stayed on top of the sharp ridge almost the entire way, and there were great views on both sides.  I told my son that in the Winter this trail was icy and extremely dangerous, and that many people had died here, after slipping and falling for a thousand feet down the steep slopes.  Even with crampons and an ice ax this trail was dangerous at those times.  But not now, on a cool September day.  This was more our style.
We stopped here and there and took plenty of photos and videos.  It really was a fun trail, and well worth hiking.  To the northeast we could see Lytle Creek below us, and to the southwest was San Antonio Canyon and the LA Basin beyond it.  The air was a bit hazy, but we could see plenty of familiar mountains in the distance all around us.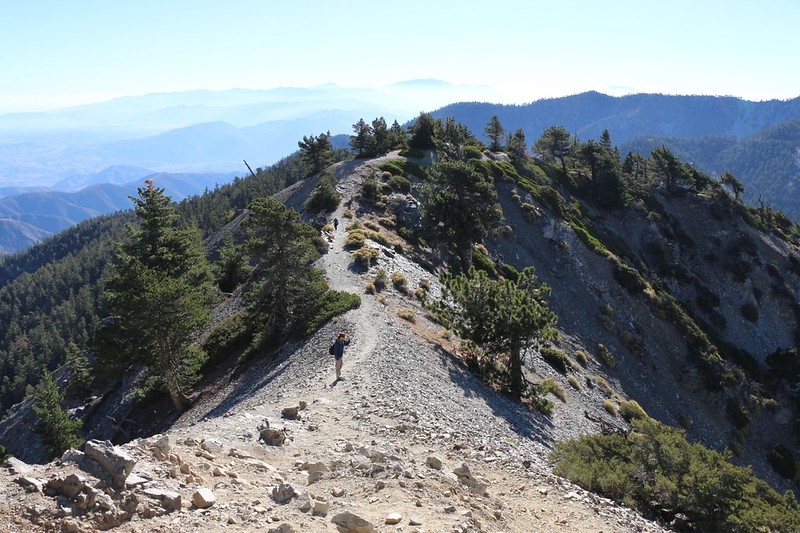 GoPro video of hiking on the exposed ridgetop
Panorama video as we near the end of the Devils Backbone section of the trail
After a mile or so the backbone portion of the trail ended as the ridge merged with Mount Harwood.  The path ignored the summit and simply traversed along the south-facing slope of the mountain.  It was easy hiking along there and we made good time.  We could see the Baldy Bowl ahead of us.  The Sierra Club's Ski hut was down there somewhere, and I told everyone about how Vicki and I had once climbed directly up that steep slope from the hut until we reached this trail, four years ago in July 2013.
In no time at all we found ourselves climbing the final stretch of trail up to Mount Baldy's summit.  It was relatively steep, climbing 600 feet in a half mile, and had plenty of switchbacks.  There were many choices of trail on this section, as people hiked wherever they felt like it, and there were lots of "use" trails.  Let's face it:  This was a very popular destination.  If you're pining for solitude, don't bother coming here on a nice sunny day.  The only time you'd be alone might be during a Winter storm at midnight, which is definitely not recommended.
After taking a quick photo with the brass summit plaque, my son and I left Elwood and Sean behind and continued onward to West Baldy.  My son had never been here before, so the chance of bagging yet another peak appealed to him.
At 9988 feet elevation, it was one of Southern California's tallest peaks, but fell twelve feet shy of the all-important 10k distinction.  We thought about building a tall cairn on the summit, to get it up to spec, but that would be cheating.  And some annoying Sierra Club Purist would be certain to knock it down anyway.  To stop those interfering busybodies, we'd have to hire a heavy-lift helicopter to position a mighty boulder on top, thereby forming a summit block that would resist all of their pathetic efforts.  Too bad we were broke.  Hmmm.  What West Baldy needed was a source of funding, to bring it into the 21st century.  Maybe they'd even rename the peak after one of us.  Sigh.  So much for dreams of immortality.
We hung out on West Baldy's summit and took in the views while eating a bite of snack.  Unlike Baldy, which had at least a hundred people on top, we were the only ones here.  And the views northwest toward Mount Baden-Powell were excellent.
GoPro panorama video from the summit of West Baldy
Just the same, we didn't stay there for long.  It was breezy and our partners were waiting for us on Mt. Baldy.  So we hustled back to the busier summit.  We found Elwood and Sean relaxing, protected from the wind behind a low rock wall.  Elwood was playing with his handheld HAM radio and left a message for his wife.  We sat down with them and checked out the crowd on the peak, but we didn't stay long.  We enlisted a fellow hiker to take a group photo and then headed back down.  As always, we were much faster hiking downhill.
When we reached the saddle between Baldy and Harwood, we decided that bagging a third peak would be worthwhile.  So we turned left and headed up the faint use trail to Mount Harwood.  It was only two hundred feet of climbing, and the long ridge of the mountain roughly paralleled the main trail, so it wouldn't take much extra time.  The breeze had strengthened by then, so we took a couple of summit photos with Baldy in the background and continued on.
Windy panorama video from the upper ridge of Mount Harwood
GoPro panorama video from the summit of Mount Harwood
We dropped back down on an angle to the ridge and intersected the main trail just before the Devils Backbone section.  The backbone trail looked even better from this end, as we could see it from above.  As expected, the views were superb, and the hiking was easy.  We blasted right along, taking photos and videos the entire time.  It was fun.
GoPro video panorama showing the exposure on the Devils Backbone Trail
GoPro video as I hike along the ridgetop
Soon enough, we were back at the upper ski lift.  We wished that it was running, as our toes had been getting pounded by all the downhill hiking.  And we remarked that it certainly would have been convenient if we could have used it on the way up, as well, but that would have led to even bigger crowds on Baldy's summit, so we gave up on that plan.
In no time at all we were back at Baldy Notch, and headed directly for the Top of the Notch restaurant.  We ordered burgers and beer.  We sat and ate and talked for awhile.  Yes, life was good again.
After that, the hike was essentially over.  We rode the ski lift back down to the parking lot, and said good-bye to Elwood.  Sean graciously gave us a ride back down the hill to our car at Manker Flat, and we thanked him for arranging the hike.   It had been fun meeting up with good folks from the forum.  We resolved to do it again in the future, and that this was merely the first hike in what would become a regular event.
After that, we had no choice but to spend the next three hours driving back to San Diego.  However, even with all the driving, the two of us were quite happy that we'd spent the day climbing Mount Baldy on the Devils Backbone Trail.
For more photos and videos check out my Flickr Page
For a topographic map of our hike see my Caltopo Page